Martin Kuhn specificeerde bijna 50 GLP JDC1 voor BMW's stand bij de IAA 2017
Every two years the automotive industry and an army of auto fans head for Frankfurt. At the IAA Show, everything of importance in terms of automobile and road traffic converges — and the slogan is: Take Notice!
The Bavarian car manufacturer BMW had some interesting news to deliver at their booth in Frankfurt and decided to set up the announcement in spectacular fashion. A total of 47 GLP JDC1 hybrid strobes were set around the new car presentation area, ensuring a particularly impressive and abiding memory. The Berlin-based lighting and production designer Martin Kuhn had specified the brand new hybrid strobes for his lighting design, and these, as well as the rest of the technology for this exhibition feature, were supplied by Leyendecker from Wuppertal.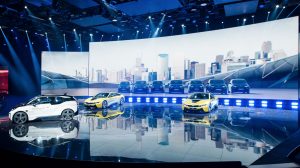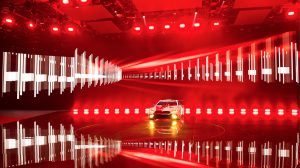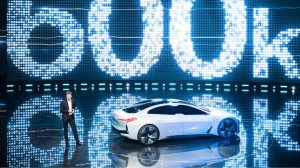 "The JDC1 has been on my wish list since the prolight + sound expo in Spring," says Martin Kuhn, about his choice of lighting for the BMW stand. "I was looking for new, innovative fixtures that would provide fresh looks. The JDC1 was immediately noticeable because it made exactly these new looks possible. Colours, movement and strobe function … I had not seen this combination before," Kuhn continued.
And having seen the first demonstration at GLP's presentation in Frankfurt, the Berlin designer was clear on how the JDC1 would be deployed at IAA: "The design for BMW featured a 'light cradle' a 'pelmet' type strip separating the stage floor and the LED wall above it. For this strip I was looking for a special effect – and suddenly the JDC1 came to mind. In addition, I had originally planned conventional strobes on the roof above the stage — but this has no comparison."
Almost 50 hybrid strobes were programmed in full mode with 68 DMX channels per fixture. "It took little effort, yes, but it was definitely worth it. I like the possibilities that this lamp offers me — not just a strobe but also a washlight or the combination of both. And the bandwidth is gigantic: sometimes only a narrow strip of white light from the strobe tube and a moment later powerful flash images with strident lighting. Both have their charm and both effects are produced from the same lamp. Equally thrilled by the diversity of the JDC1 was fellow show designer and operator, Ben Schiller.
Up until now Kuhn has not planned any further projects – "but that can change quickly" he knows from experience. Will it be GLP JDC1 again? "If it fits – definitely!"
Source: https://www.glp.de/en/news/13-news/news-en/220-glp-jdc1-creates-special-look-for-bmw
Lighting Designer: Martin Kuhn
Pictures: Amanda Holmes